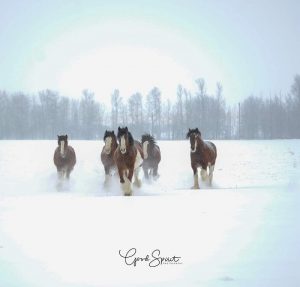 A family affair that has become tradition with Clydesdale Horses since 1970. We have had many class winners and champions from our own breeding program in producing Clydesdales for more than four decades.
Our goal is to breed desirable horses for the show ring while maintaining traditional Clydesdale quality traits. Traits such as disposition, confirmation, size, bone quality, color are all taken into consideration when making breeding decisions. The improvement of the breed has been the main focus of our operation.
The early 70's began what is now a full time breeding operation. Two mares were purchased in 1970, Bonnie Argyle and Masondale Lorna. The first foal was born in 1971. This sparked our ambition to breed quality Clydesdales and improve the breed. More mares were needed, so a trip down east to Quebec and Ontario occurred in the mid 70's. We purchased, Riverview Judy 10th, Yorella Jean, Maplebrook Tracey, Doura Sweet Bloom, Doura Majestic Hagar Heather, Tulloes Maril, Linda Superb and Weeden Dale Birdie.
In 1976, after hearing word of the Wilson hitch dispersal in Truro, NS we jumped at the opportunity to purchase the imported stallion Bardrill Strathmore by Torrs Renown. Then in 1980, on a horse-buying trip to Great Britain, we imported Millisle Masterpiece by Millisle Print from Ireland. Later in 1981 we imported the stallion Roughlands Commander by Roughlands Trademark. We also imported two mares, Glenord Choice and Glenord Melody, both by Glenord Comet. These horses built the structure of our foundation "Westerdale" mare herd. We've continued to breed our own mares while purchasing outside stallions in the last two decades.
In 1984 we purchased Clydeslea Millisle Venture from Bill Taylor, Grand Valley, Ontario. We went on to use Croyden Benefactor in the late 80's. In 1992 we purchased Belleau Annette's Adam by Castle Commander. We purchased C.I.E. Perfection by Doura Sensation in 1998. We also purchased Windy Ridge McKenzie in 1999.
In 2003 we leased Thistle Ridge Eaton Vision and purchased California Visions Legend. In 2004 we purchased Kenbar Sir Wallace and in 2005 purchased Hatfield Royale. In 2008 we purchased Boat Legend Jubilee.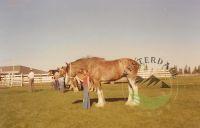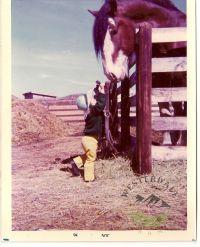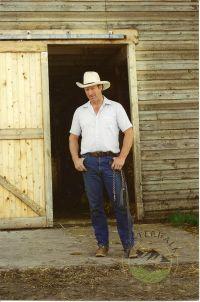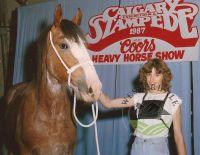 Westerdale Continues On……
I guess you could say Clydesdales are in my blood as I'm a fourth generation breeder. My Great Grandmother E.M Clayton raised and registered Clydesdales in the early 1900's at Airdrie, AB. It is always fun to research the Canadian Stud books and see the horses she registered! My Grandparenets on both sides bred and used Clydesdales and Clyde crosses for farming and enjoyment. In the early 1970's my parents Dale and Charlotte Rosenke founded Westerdale Clydesdales at Olds, AB. They brought many good mares out from the East and imported great Stallions from Great Britain over the years. My dad loved breeding Clydesdales and strived to breed top quality true, old style "Scotch" horses. From the minute I was big enough to be in the barn I was always helping with chores, driving or helping show. Dad promised me the first filly foal out of Westerdale Sweet Melody ( Doura Sweet Bloom X Bardrill Strathmore). After waiting SIX years she finally had Westerdale Sweet Sophia, my first mare and I was 12 years old. I have been breeding and showing along with my dad ever since. Sophia was a great mare and I was lucky to get to show her at the Royal Winter Fair in Toronto and she won many classes throughout her career. She lived and raised foals to age 24 and was a wonderful teacher. The horses were a common thread for dad and I. Some of the best times of my life were spent with him in the barn foaling or driving horses. Breaking teams with the stone boat or travelling across North America to visit shows or check out horses was a way of life for us. At the shows you could find dad in the ring and I was back at the barn getting horses ready for their classes. We each had our jobs and it was a great system. However, life doesn't always work out how you plan and he was taken from us too soon. He was a great father, Grandpa and horseman. He loved animals, springtime and especially foaling. Some years we had over 20 foals and he loved every one of them. Dad will be forever in our thoughts and we miss him everyday.
Due to a busy banking career, coupled with being transferred around Alberta most of my mares remained at Westerdale. Once I was married we were able to keep some mares at our acreage but for the most part they were kept at Westerdale. In 2013 my father Dale Rosenke passed away and we downsized the operation to 20 head which was more manageable for myself with 3 little kids under the age of 6. After dad's passing we had the opportunity to purchase the farm and continue on our breeding program. In 2014 we purchased North Country Major and have kept some nice big fillies that will stay here for breeding mares. In 2016 we purchased Doura Rising Star but sadly we lost him. In 2018 we purchased a share in Calico Great Galaxy and have a few mares in foal to him each year. We also will use the homebred stallion Westerdale Firestorm in the next couple years. Thank you to the Canadian Hall of Fame Committee for honoring my dad, Dale Rosenke as one of the first inductees into the Clydesdale Horse Association of Canada's Hall of Fame 2020.
Kind Regards, Jean (Rosenke) Kinnear